It is also my prediction that 2013 will see an end to the Assad regime and that the Syrian opposition will not bow to pressure from Putin, or Brahimi or Cameron or Obama to include members of this criminal regime in the future government of Syria.
I think the Syria people will be the victors in 2013 and that victory will not be long in coming!
URGENT | The #FSA announces that they have #Assad's Jarah Military Airport in the #Aleppo Suburbs completely... fb.me/1uoMcT3Yq

— Victory is Near (@IbnOmar2005) December 30, 2012
LCC: #FSA liberate 2 checkpoints in al-Zabadani in #Damascus countryside and destroy 5 military vehicles #Syria

— ??? ??????? (@OmarJaabari) December 30, 2012
#FSA fighters seize control of regime 2 battalions eastern Busr al-Harir town in #Daraa

— riad al asaad (@fsa_hq_syria) December 30, 2012
Heavy Clashes near the Security HQ in Raqqah btw #FSA and #Assad's Thugs Right Now. #Syria #AssadCrimes

— Ya (@TaziMorocco) December 30, 2012
#Syria #FSA take control ofanother army base in Idlib as campaign to neutralise #Assad air power gears up:tinyurl.com/PCOSyria

— Peter Clifford (@PeterClifford1) December 30, 2012
Published on Dec 25, 2012

Welcome to "The Reality"

- a youth inspired, peace innovation documentary about Aleppo, Syria - our present and future

Abdullah Hz., DirectorAleppo, Syria Illinois Institute of Technology (admitted and, Inshallah, future student)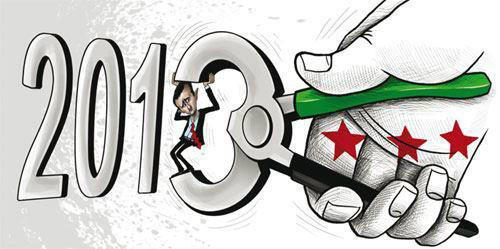 Click here for a list of my other diaries on Syria

It is my fervent wish that in 2013, the Syrian people, and the world see an end to the murderous Assad regime.