BREAKING NEWS UPDATE 7:50 p.m. ET
: CNN is reporting:
Some 35 people -- including 10 first responders -- died in an explosion Wednesday night at a fertilizer plant in West, Texas, Mayor Tommy Muska said, according to USA Today.
"Black Rain" Exercise took place yesterday at Nuclear Power Plant less than 6 miles from West Fertilizer. Coincidence? [see below]
WacoTrib
: Three schools in West have been damaged and the students will have to be relocated.
The worst industrial accident in US history killed 581 people when a store of 2,300 tons of ammonium nitrate fertilizer exploded in Texas. That was 66 years ago, almost to the day, on 16, April 1947. A fire on board a ship loaded with the fertilizer and docked in the Port of Texas City set off what has since been known as the
Texas City Disaster
.
What happened in West, Texas yesterday, at West Fertilizer, owned by Adair Grain, Inc., reminds us that industrial accidents kill a lot more Americans than terrorism, even if they generally receive a lot less press.
While the death toll from the West Fertilizer explosion is said to be in the range of 5 to 15, what happened in Texas City, 66 years ago shows that it could have been much, much worst. Fortunately for all, this explosion happened when the near by
middle school
and
high school
were not in session.
But given this history in Texas, some people are starting to ask how it is that Texas and Federal officials allowed a large quantity of ammonium nitrate, which is very explosive, to be manufactured and stored in the middle of a small town and close to schools.
The high school is about 1300ft. from the nearest storage tank at West Fertilizer, the middle school is about 500ft from that site.
[Map]




View West TX Fertilizer explosion close to schools in a larger map
This is the Google streetview of West Fertilizer as seen from West Rest Haven Nursing Home about 600ft away. The large building is on the right and the largest tank at West Fertilizer is on the left.
This is West Middle School after the explosion. Imagine the tragedy if this explosion had happened 6 hours earlier?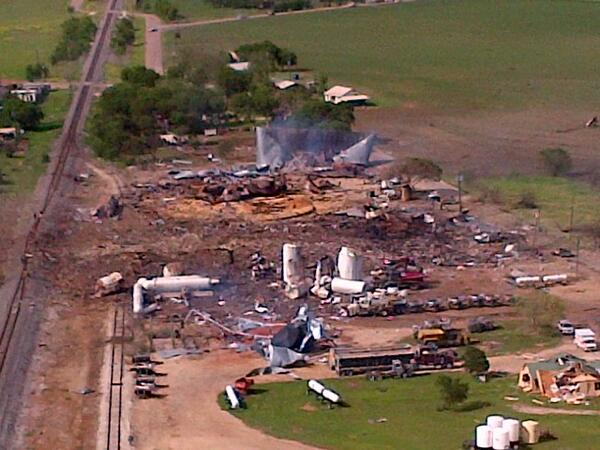 From this picture of the explosion in appears that the tank that exploded was, in fact, the one closest to the schools.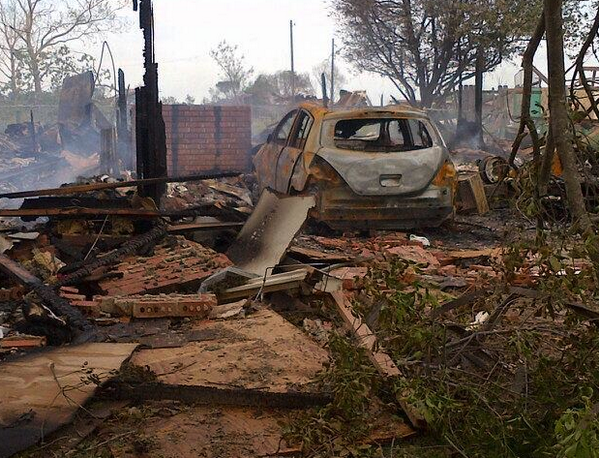 It looks like a war zone now in West, TX.

And now we find out that his ticking time-bomb planted so close to schools had been inspected in five years. Think Progress
is reporting
:
West Texas Fertilizer Plant Hadn't Been Inspected In The Past Five Years

By Bryce Covert
Apr 18, 2013 at 9:01 am
...
It's impossible to know at this point whether unsafe workplace conditions were a direct cause of this disaster, but we do know that it was cited for failing to obtain or qualify for a permit in 2006 after a complaint of a strong ammonia smell, a smell that was reported to be "very bad last night." The plant hasn't been inspected in the past five years, and in fact only six Texas fertilizer plants were inspected in that time. The Occupational Safety and Health Administration (OSHA) is chronically understaffed, which means that a given plant like West Fertilizer can only expect to get a state inspection once every 67 years on average.

With this kind of neglect, worker safety is in serious condition. More than 4,500 people were killed at work in 2010, up three percent from the previous year, meaning that more American workers died on the job in one year than died during the entire Iraq war. This doesn't even count the others who might suffer from dangerous workplace conditions like those residents of West injured in the blast who didn't work at the plant.
More...
Death Toll Expected to Rise Dramaticly
The LA Times
is reporting
:
West, Texas, mayor says 35 to 40 dead in fertilizer plant explosion

By John M. Glionna and Maeve Reston
April 18, 2013, 3:04 p.m.
WEST, TEXAS --The mayor of this city said 35 to 40 people are believed to be dead in a massive fertilizer plant explosion "because they are unaccounted for and still missing."

"We are out there searching the rubble, looking in each and every house. We are trying to locate each and every citizen," Mayor Tommy Muska said in a telephone interview with The Times.

Muska said he arrived at the count of 35 to 40 dead because all other residents and first-responders in the area have been identified. Among those who were missing and believed dead, he said, were as many as six firefighters and four emergency medical technicians.

The explosion occurred Wednesday night, damaging or destroying buildings within a half-mile radius. More...
Hey #WestTX! Remember this? 'We don't need regulations or inspectors! Keep government out of it; let businesses police themselves.' #tcot

— Chico Delainky (@ChicoDelainky) April 18, 2013
Mayor Tommy Muska says 50 to 60 homes are severely damaged following fertilizer plant explosion. Death toll is still not known.

— CP24 (@CP24) April 18, 2013
WSJ: "West Fertilizer Co. said the #WestTX plant had no alarms, firewall or automatic shutoff system." on.wsj.com/17KdYKl

— Adam Savader (@adamsavader) April 19, 2013
Please join me in praying for the victims of the explosion in Texas and their families.

— Pope Francis (@Pontifex) April 18, 2013
FYI:
Donald R Adair
, owner of West Fertilizer received gov't farm subsidy payments totaling $874,522 from 1995 through 2011.
A
Gary L Adair
of West, TX received gov't farm subsidy payments totaling $1,217,338 from 1995 through 2011. Relationship to West Fertilizer not established at this time.
I'm not trying to start a conspiracy theory here but
this popped up
on my radar, so I will report it:
Regional Exercise Black Rain

Apr17 4/17/2013 8:00 AM - 4/18/2013 5:00 PM Regional EMTF Full Scale Exercise - Black Rain
Scenario:
The North Central Texas region is impacted by a radiological catastrophe at Comanche Peak Nuclear Power Plant. The blast and residual fallout results in many injuries and fatalities within the immediate hazard area and the densely populated DFW Metroplex area is affected by blackouts and rolling brownouts due to loss of power generation. Blast and fallout damage results in a critical taxing of the medical community and generates a potential need for medical evacuation and vast number of worried well within the metropolitan population. Region 2 of the Texas Emergency Medical Task Force (EMTF) must activate and deploy its Ambulance, AMBUS and MMU Strike Teams to assist with the first response and contamination monitoring efforts of the medical community. More...